Your Solution For Electrical Problems In Victory Gardens, NJ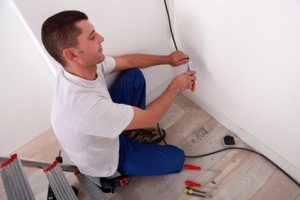 When your lights flicker, outlets spark, or your electrical systems just seem to be on the fritz, then you need to have your home serviced by a licensed and insured electrician.  A professional electrician can make all the difference in your home repairs and installation, and considering the dangerous nature of electricity, this is a service that you should never skimp on.  When you turn to the experienced staff at Zo Electric, LLC you can rest easy getting the service you need, so you will find your electricity woes handled swiftly, all while remaining easily within your budget.
Turning to the experienced staff at Zo Electric, LLC means you will receive years of service experience that will help to provide you with the high-quality results that you require.  We have been working in the industry for over 30 years, and during that time have learned how to handle any electrical repair, maintenance, or installation job with ease.  If you are after fast, friendly service, affordable care, and professional, trustworthy electricians, you cannot go wrong in turning to Zo Electric, LLC.
Victory Gardens Wire Repairs
If you live in an older home and cannot remember when you last had your wiring inspected, no might be the right time to act.  The majority of home fires in older homes is often caused by faulty wiring, and this is something that can be easily prevented with the right maintenance and repair services before it becomes a serious concern.  Preventative maintenance is the best way to avoid disaster, and at Zo Electric, LLC we can handle your entire wire repair and replacement needs.
Even if you require a whole home rewiring, we will be able to remove your old faulty wires and replace them quickly, without fuss.  We are also available to provide re-wiring services for commercial needs as well, and can help you get your building up to code in no time.
Victory Gardens Electrical Repairs
When something goes wrong with your Victory Gardens home electrical appliances, you need to get them back in working order right away, and luckily doing so is as easy as making a call to Zo Electric, LLC.  We can offer you the very best in electrical repair and maintenance services, and will be able to get your appliances working again in no time.
While taking the do-it-yourself approach might be appealing with these kinds of repairs, it is recommended that you always turn to a licensed professional where electricity is concerned.  Due to its dangerous nature, these are repairs that should not be taken lightly, and are best left to someone with experience and the right tools for the job.
Recent Articles
How to Prevent Electrical Fires in New Jersey

According to the National Fire Protection Association, 47,700 fires that were caused by an electrical problem were reported to the U.S. Fire Department. Many of these fires led to serious injuries or fatalities, and most of them could have been prevent. Keeping your New Jersey home's electrical system as safe as possible should be one...

Read More
Electrical Safety Professionals in New Jersey

It is hard to imagine any task that your family conducts that is not somehow dependent on your residential electrical system. Electricity is a modern necessity that provides immense convenience, entertainment, comfort, and security to our New Jersey families. Our residential electrical systems are perhaps the biggest boon to our families' quality of life. Because...

Read More
If you are in need of a Victory Gardens electrician, then please call 973-906-8242 or complete our online request form.