Your Reliable Succasunna, NJ Electricians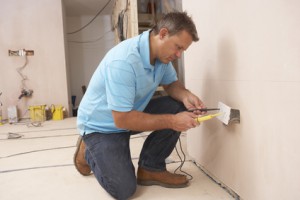 When something goes wrong with your home electricity, your life often grinds to a halt, and it becomes apparent how dependent we are on a constant flow of electricity to manage nearly every aspect of our lives.  With the importance of electrical systems in the lives of every Succasunna home owner, it is understandable how experienced electricians can be in such high demand.  When you find yourself requiring electricial repairs, maintenance, or even installation services, all you have to do is turn to the expert staff at Zo Electric, LLC.
With years of industry experience, our staff of professional electricians is proud to provide the Succasunna area with the service that they require.  We are well versed in all kinds of electrical services, and will be able to provide you the very best in fast, friendly, and affordable service.  Each of our contractors takes customer service very seriously, and we will make certain to go above and beyond to ensure that the results exceed your expectations each and every time.
Upfront Pricing
Workmanship Guaranteed
24 Hour Service
Fast, Friendly, Professional
Succasunna Wire Repairs
When you live in an older Succasunna home, the state of your wiring will really begin to matter.  As wiring grows older, the insulation that it is wrapped with degrades, and other factors can lead to this process accelerating.  The older wiring gets, the less safe it becomes, which is exactly why you need to have your wires inspected and potentially replaced if you suspect there might be any problems.
Conducting routine preventative maintenance on your wiring is a must for home and business owners, and the best way to go about doing that is by getting the assistance of an experienced electrician at Zo Electric, LLC.  We will make certain that all of your wiring is safe and in good shape before offering up any needed solutions, so that we can provide you with any re-wiring or repair needs that you might have.
Succasunna Electrical Repairs
When something goes wrong with your home electrical appliances, you need to get them back in working order right away, and luckily doing so is as easy as making a call to Zo Electric, LLC.  We can offer you the very best in electrical repair and maintenance services, and will be able to get your appliances working again in no time.
While taking the do-it-yourself approach might be appealing with these kinds of repairs, it is recommended that you always turn to a licensed professional where electricity is concerned.  Due to its dangerous nature, these are repairs that should not be taken lightly, and are best left to someone with experience and the right tools for the job.
Recent Articles
How a Home Generator Can Protect You And Your Family in Morristown

If you have a Morristown home generator on your checklist of things to purchase in the future, then you may want to get one sooner than later. They will help you during a power outage and storms that leave you stuck for days. While others are stuck without a working refrigerator, your food will remain...

Read More
If you are in need of the service of an electrician in Succasunna, then please call 973-906-8242 or complete our online request form.