The Best Electricians In Smoke Rise, NJ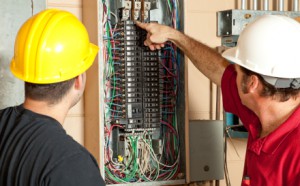 It is very easy to take the importance that electricity plays in our daily lives for granted, that is until something goes wrong and we find ourselves without the modern conveniences that we have become so accustomed to.  Considering how important electricity is to nearly every aspect of our lives, when there is a disruption to your Smoke Rise home electrical systems or appliances, it is understandable how you would want those issues resolved as quickly as possible.  This is exactly why it is important to have a licensed and insured electrician on hand, so you can receive the prompt service and professional results that you need, whenever you need it.
By looking to the experts at Zo Electric, LLC whenever you require the service of a licensed electrician, you will be getting years of industry experience at your disposal, so you can rely on the best results on each and every task.  Zo Electric, LLC has only the most experienced electricians on staff, and can offer you exceptional results each and every time, all while offering upfront pricing and work that easily falls within your budget.  No matter if you need emergency repairs, maintenance, or wire replacement services, the expert electricians at Zo Electric, LLC have you covered!
Smoke Rise Wire Repairs
If you live in an older home and cannot remember when you last had your wiring inspected, no might be the right time to act.  The majority of home fires in older homes is often caused by faulty wiring, and this is something that can be easily prevented with the right maintenance and repair services before it becomes a serious concern.  Preventative maintenance is the best way to avoid disaster, and at Zo Electric, LLC we can handle your entire wire repair and replacement needs.
Even if you require a whole home rewiring, we will be able to remove your old faulty wires and replace them quickly, without fuss.  We are also available to provide re-wiring services for commercial needs as well, and can help you get your building up to code in no time.
Smoke Rise Electrical Repairs
You want to keep your home systems in tip-top shape, but sometimes something goes wrong, and when that does happen, you need to see to it that you have the repair work handled by a licensed and insured professional.  An electrician can make all the difference in your home electrical repairs, and can provide you a safe option to attempting to do it yourself.  There is no replacement for knowledge and experience when it comes to handling electrical repairs, which is exactly why you want to turn to Zo Electric, LLC.
Recent Articles
How a Home Generator Can Protect You And Your Family in Morristown

If you have a Morristown home generator on your checklist of things to purchase in the future, then you may want to get one sooner than later. They will help you during a power outage and storms that leave you stuck for days. While others are stuck without a working refrigerator, your food will remain...

Read More
If you are in need of an experienced electrician in Smoke Rise, then please call 973-906-8242 or complete our online request form.