White Meadow Lake, NJ Professional Electrical Contractors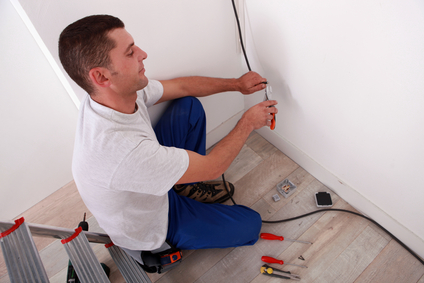 Our Professional Electrical Contractors at Zo Electric LLC offer White Meadow Lake residents the best electricians and electrical services in the area.
The unincorporated community of White Meadow Lake, New Jersey is situated in a beautiful area of the east coast country. It is located in Rockaway Township in Morris County. 8,836 lucky residents enjoy this area as their home.
Residents of White Meadow Lake may already know they can count on our electricians to provide quality electrical repairs and wiring needs. But if you don't, you'll be glad to know that when you have electrical problems or want to upgrade your home, the electricians most homeowners trust in the area work for Zo Electric, LLC.
If you're looking for the most knowledgeable and competitive electrical contractor in White Meadow Lake, just call us at the number below. Our expert electricians are standing by and ready to help you with emergency repairs or any other regular service you may need.
Electricians in White Meadow Lake
Choosing a qualified electrician isn't always the easiest thing to do, especially when you live in a smaller city area, and when you need help there isn't always time to search for the best.
That's why knowing in advance about the services available to you when you do need them will help you during times when you just need to make the call.
Wire Repairs in White Meadow Lake
Your wiring in your home goes through a lot of things that you don't know about, including constant tiny vibrations that work to loosen connections over time. Changes in temperature also cause loose wiring because the materials are also always moving with the contracting and expanding from temperature changes.
Faulty wire, bad wire, loose wire, wrong wire materials, and more can mean your wiring may need to be repaired or replaced.
Older homes are particularly in need of wiring replacement. They can no longer sustain today's modern electrical needs of families. All the electrical gadgets we have in our homes only end up overloading the systems in older homes, causing shorts and old wire to possibly surge or catch fire.
Electrical Inspections in White Meadow Lake
When you have electrical problems, it's important to have an electrical inspection done in order to detect, locate, and fix the issue. You don't want to continue with your electrical problems as they are because no amount of finger crossing can keep your home safe.
When problems exist, they aren't always easy to detect. In other words, you could have electrical problems you know nothing about until something bad happens. This is why a yearly electrical inspection or an inspection done on older homes (right away) are important. You'll have all the information you need to know where your electrical system stands and how you may need to make changes for the future.
Electrical inspections not only reveal hidden problems, but can help you obtain the needed repair. Reports can assist you with any insurance claims you may be entitled to or any incentives offered by your county or city officials. Many times you can get tax breaks or reimbursements when you improve your home, especially if you are installing any energy efficient or safety devices like security systems.
Recent Articles
How a Home Generator Can Protect You And Your Family in Morristown

If you have a Morristown home generator on your checklist of things to purchase in the future, then you may want to get one sooner than later. They will help you during a power outage and storms that leave you stuck for days. While others are stuck without a working refrigerator, your food will remain...

Read More
If you are in need of a White Meadow Lake electrician, then please call 973-906-8242 or complete our online request form.