IN NEED OF AN ELECTRICIAN IN WARREN, NJ?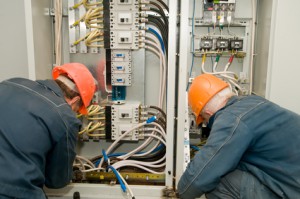 Zo Electric, LLC has over 30 years of experience providing Warren, NJ with all of their electrical repair and maintenance needs. We specialize in electrical service and repairs, and are a locally owned and operated business that prides ourselves in helping our community. Every one of our Warren electricians is committed to helping our customers as best they can. We have developed a reputation for honesty and pride ourselves in the long-lasting quality of the service we provide. Once we have assessed a problem we will let you know the costs upfront so there are no surprises, and we are more than willing to try and work within your budget. The power to fix any of your Warren electrical problems is only a phone call away.
Warren Electrical Repairs
Many Warren residents rely on ceiling fans to keep their rooms cool and tolerable during the summer heat. When your ceiling fan stops spinning, there's no reason to go out and buy a new one when we can have it running like new after a short visit.
There is no electrical repair in your home that our electricians cannot handle. Zo Electric, LLC is also equipped to handle complex installations, indoor/outdoor lighting, or even maintain and fix your whole home generator. We can handle your electrical repairs, and in the case of an unknown issue, diagnose the problem accurately before giving you an estimate of what it will take to fix the problem.
Don't endure the danger of handling electrical repairs on your own, or even worse, not handling them at all. Electricity is dangerous and can prove hazardous to your home if existing problems are not addressed. Call the expert electricians at Zo Electric, LLC today.
Warren Panel Upgrades
Do you live in an older Warren home? If you do, chances are you could highly benefit from undergoing a panel upgrade. Since we don't see electricity at work, it is easy to take something like your electrical panel box for granted. However, older homes tend to have boxes that are by no means efficient when compared to newer systems. Due to this it is recommended that you upgrade to a new panel box which can provide a much more consistent flow of electricity throughout your home.
Upgrading your electrical box is a great idea if you have overused outlets, since you do not want to risk overloading the existing circuits. If you are going to be increasing the amount of electricity that your home uses through the installation of new appliances and lighting, a panel upgrade for your Warren home becomes even more important. A new panel box can help avoid overtaxing your system and overall improve your electricity management.
Installing new devices may mean you are using more electricity, but with a better panel box you are actually using less. The reason for this is that a panel upgrade can allow your home's electrical system to be more productive by maintaining a balanced flow of current. You are putting less strain on your system and it is better equipped to handle the new devices, so it does not have to work as hard.
Recent Articles
Is Knob and Tube Wiring Safe?

In the late 19th and early-to-mid 20th centuries, knob and tube wiring was considered state-of-the-art. Most houses that were built during this time period do have knob and tube wiring—that is, if it hasn't been replaced. If your home still has knob and tube and wiring, professionals do recommend replacing it. At the very least,...

Read More
Why Electrical Repairs Should Never be a DIY Project in New Jersey

The DIY movement is a rapidly growing one, and it isn't difficult to see why. DIY projects are a great hobby to take on: they're satisfying, fun, and they leave you with great home improvements without having to hire a contractor. However, there are some home projects that you should never attempt on your own....

Read More
If you are in need of the services of an Electrician in Warren, NJ, call Zo Electric, LLC at 973-906-8242 or fill out our online request form.