Riverdale Electrician – Your Trusted Professional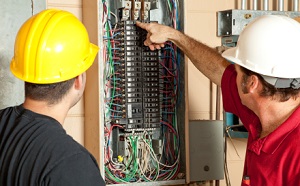 Choosing a Riverdale electrician from Zo Electric, LLC is one of the smartest choices you can make as a homeowner. When it comes to getting the finest of craftsmanship from someone who offers only the top notch customer care then you know you can count on us. You need to know that you are working only with a licensed and insured professional to ensure the safety of your home and family.
Too many homeowners take a gamble when it comes to their electrical work. Cutting corners to save money on something as intricate as this is never worth the gamble. Problems like sparks, shocks and even house fires can result from less than professional electrical work. At Zo Electric we never cut corners but still manage to offer the best work at the fairest prices.
Our entire crew is beyond ready, willing and overly trained to take on any job – big or small. Whether you are building the home of your dreams, remodeling your starter home or just need minor repairs we can take care of that for you. Contact us today so we can help you tackle your to-do list.
Electrician in Riverdale
For searching out the best electrician in Riverdale you certainly have come to the right place. We care about the wiring in your home and safety of your family as much as you do. With over 30 years of experience under his belt, the owner of Zo Electric LLC has been taking care of members of the Riverdale and surrounding community and generations of the same families. It's not just a job for us; it is in our best interest to help keep our fellow community members safe.
Riverdale Wire Repairs
A lot of older homes require Riverdale wire repairs. Sadly, anyone who has had a house built recently by a less than professional contractor may also need wiring work done. In order to ensure the safety of your home and family you need to be sure your wires are up to current standards. Let us inspect your wiring to help protect your family.
Riverdale Electrical Repairs
The bottom line is that when it comes to your need for Riverdale electrical repairs only the best should do. Our crew is standing by and ready to help make that happen for you. Don't take chances when it comes to making sure all of your wiring is up to modern safety standards.
Reach out to us and we can make sure you are taken care of. For your Riverdale electrician services needs let us be the pros who take care of all your needs – safely and professionally.
Recent Articles
Understanding Your New Jersey Home's Electrical Systems

At Zo Electric, LLC, we like to help our customer understand their home's electrical systems so when problems arrive, they're aware of it. If you have a home in New Jersey and you have any questions at all about your home's electrical systems, please feel free to give us a call. We'll gladly help you...

Read More
Why Electrical Repairs Should Never be a DIY Project in New Jersey

The DIY movement is a rapidly growing one, and it isn't difficult to see why. DIY projects are a great hobby to take on: they're satisfying, fun, and they leave you with great home improvements without having to hire a contractor. However, there are some home projects that you should never attempt on your own....

Read More
If you are looking for a Riverdale electrician, then please call 973-906-8242 or complete our online request form.