In Need of A Reputable Electrician in Livingston, NJ?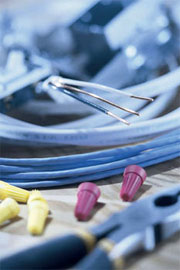 If you need the assistance of a Livingston electrician, then all you have to do is call Zo Electric, LLC. Our goal is to provide you with good electrical services that you'll be able to tell your friends and family about. Don't trust any electrician that's not licensed and certified. Trust your locally owned and operated electricians from Zo Electric, LLC.
Livingston Electrician
There are many reason to hire an electrician. You'll benefit from their services as they'll come and repair the electrical problems in your home. You can't beat that as you don't want to do them on your own anyway.
Circuit breakers are a reason to trust the electricians at Zo Electric, LLC. If you've ever had circuit breakers short out, then more than likely the experience frightened you. You don't need to feel frightened anymore now that Zo Electric, LLC is around.
A sauna is a great place to relax. It can bring you hours of pure pleasure, but not if it's not working properly. Our electricians can do installations and repairs. We're certified to do them and also on jacuzzis as well. We'll make your life a lot easier and a lot more comfortable.
Livingston Wire Repairs
If you need wire repairs you need to call Zo Electric, LLC. For over a year now, we have been doing wire repairs that have been making homes a lot safer. Don't think, for a minute, that they are going to take care of themselves.
You wiring is important to keep up with. You'll be increasing the value of your home through our wire repair service and also keeping your home up-to-date with electrical standards in your neighborhood. Lots of homes, with older wiring, have the tenancy to burn down as out-of-date wiring. Don't become a victim to your home's wiring.
Get connected with a Livingston electrician and you'll feel a lot safer. If you value your child's safety, then you'll do anything you can to protect them against dangerous situations. Call us today for an appointment.
Livingston Electrical Repairs
The outlets in your home are what you need to keep your electrical devices running and charged up. If you have an electrical outlet that's not working, then call in a qualified electrician. A non-working outlet can mean more serious problems.
Always count on your Livingston electrician to get you through rough times like these. The fully licensed & insured contractors at Zo Electric, LLC will repair your outlets so that you can finally charge your cell phone and watch TV.
For those who fear an electrical overload, we offer GFCI outlets. These outlets will prevent from too much electricity flowing through your homes that can be blamed for surges that will destroy you electrical devices.
Recent Articles
6 Reasons Commercial Electrical Maintenance Is Important

Electricity is a critical part of the daily operations at any kind of commercial or industrial property. No matter what kind of industry you're in, your electrical system is integral to what you do each day. Your electrical system is so essential to your daily tasks that it can be easy to take it for...

Read More
Understanding Your New Jersey Home's Electrical Systems

At Zo Electric, LLC, we like to help our customer understand their home's electrical systems so when problems arrive, they're aware of it. If you have a home in New Jersey and you have any questions at all about your home's electrical systems, please feel free to give us a call. We'll gladly help you...

Read More
If you are looking for a Livingston electrician, then please call 973-906-8242 or complete our online request form.