ARE YOU SEARCHING FOR A CHESTER ELECTRICIAN?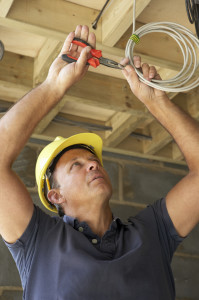 There are several different repair jobs that are too dangerous for a homeowner to attempt by themselves. Any repair job that involves electricity can be extremely unsafe if they are done by an unprofessional. If you are having trouble with the electrical wiring or outlets in your home, you need to hire a professional electrician to handle your repair jobs.
Zo Electric, LLC is a highly qualified Chester electrician. We specialize in electrical repairs and installations for both commercial and residential customers. Our electricians have the proper training and experience to handle a variety of different electrical services.
Since 2013, Zo Electric, LLC has been a locally owned and operated electrical company that believes in providing customers with solid electrical repairs that they can depend on. Our owner and operator has over 30 years of experience in the electrical industry. We stand by all of our services and take pride in the fact that they are done correctly. We guarantee that we can have your electrical devices working in no time.
Chester Electrician
As a professional Chester electrician, Zo Electric, LLC is the only contractor that provides our customers with a high quality service in a casual environment. When it comes to electrical services, we believe in customizing all of our services to fit the individual needs of our customers.
Zo Electric, LLC provides the residents of Chester with several different electrical services including:
| | |
| --- | --- |
| Electrical Safety Inspections | |
| | |
| | |
| | |
| | |
| | |
Chester Wire Repairs
The electrical wiring that runs through your house is a complex system of different wires and cords. Each wire plays an important part in keeping your home's electricity running smoothly. To avoid additional electrical malfunctions you should hire a professional Chester electrician to handle your wire repairs.
Zo Electric, LLC is a highly qualified electrician that specializes in wire repairs for both commercial and residential customers.
If your home is suffering from faulty wiring, the result could be a house fire or an electrical shock for you and your family. Our experienced electricians have the ability to repair your electrical wiring safely and correctly. It is our goal to make sure that all of our customer's homes are wired in a safe manner.
Chester Electrical Repairs
Electrical repairs can be difficult if you do not know what you are doing. There are a number of different problems that can occur within an electrical system, because of the high rate of electricity, they are dangerous.
When you are looking for professional repair services, Zo Electric, LLC provides casual electrical repairs that our customers can depend on during their electrical crisis. We stand by the quality of our electrical repairs, and we guarantee that your repairs will be done on time and for an affordable price.
Recent Articles
How a Home Generator Can Protect You And Your Family in Morristown

If you have a Morristown home generator on your checklist of things to purchase in the future, then you may want to get one sooner than later. They will help you during a power outage and storms that leave you stuck for days. While others are stuck without a working refrigerator, your food will remain...

Read More
Electrical Safety Professionals in New Jersey

It is hard to imagine any task that your family conducts that is not somehow dependent on your residential electrical system. Electricity is a modern necessity that provides immense convenience, entertainment, comfort, and security to our New Jersey families. Our residential electrical systems are perhaps the biggest boon to our families' quality of life. Because...

Read More
If you are looking for a Chester Electrician, then please call 973-906-8242 or complete our online request form.