Needing a Qualified Electrician in Cedar Knolls, NJ?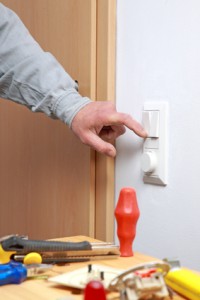 When you come to Cedar Knolls, the last thing you want to do is stay in the house especially in the spring. The town is known for it's recreational sport's teams and parks, but if you come home to no lighting, then who do you call? If there isn't a universal power outage in your neighborhood, then make sure and call a Cedar Knolls electrician.
Cedar Knolls Electrician
How do you choose a qualified electrician? First off, you pick one that possesses experience. How do you know they have experience? Ask them or ask for references. References will give you a good idea of the past work they have done and where, in your neighborhood, if any.
Also, you'll want to go with an electrician that works around your schedule. Life can be pretty hectic at time so, pick one that's available when you are. If you're a nine-to-five person, then choose an electrical professional that's available after that.
And last but not least, you want an electrician that can deliver you the type of service that you need. Just because they are an electrician doesn't mean they can work on your ceiling fan. Call ahead and ask before one comes out to your home.
Cedar Knolls Wire Repairs
Wiring for the home is always such a nightmare. If you've ever taken a good looking at it, then you know it looks like busy interstate roadway. You don't want to tackle wire repairs on your own. You're going to need the help of your local Cedar Knolls electrician.
Zo Electric, LLC can help. We have been delivering wire repairs to homes in the Cedar Knolls area for a year now and gave developed quite the reputation. People come to us because they know we are the experts in the field. Electricity is very dangerous to mess with. In fact it's quite deadly. Always call a professional for wire repairs.
You'll want to know that the wiring is done right in your home and that's why you're going to need our help. An electrician can notice bad wiring whereas you don't have that same type of keen eye. Our guys are always standing by to perform wiring repairs in your home.
Cedar Knolls Electrical Repairs
If you're experiencing lots of problems with your electric, then don't try and troubleshoot it on your own. Call in a professional. Only a professional can diagnose your electrical problems as they have the knowledge and equipment.
Your Cedar Knolls electricians from Zo Electric, LLC can troubleshoot all of your electrical issues. Safety is a number one concern of ours and we practice that in the homes that we service. It doesn't matter if your home is old or new. Zo Electric, LLC are the qualified professionals that will keep you safe.
Don't ignore your electrical problems or try and sweep them under the rug. They will only get worse and making an electrical problem worse can lead to dangerous situations. Prevent further damages to your home by contacting Zo Electric, LLC.
Recent Articles
Security Lighting That Will Prevent Theft In Your East Hanover Home

Homeowners that live in pure fear that their homes will be burglarized need to pay attention as this will prevent your home from being broken into. Last year burglaries in the area went down to halfway. That's because homeowners wised up and had East Hanover security lighting installed. Security lighting will provide the homeowner with...

Read More
Why Electrical Repairs Should Never be a DIY Project in New Jersey

The DIY movement is a rapidly growing one, and it isn't difficult to see why. DIY projects are a great hobby to take on: they're satisfying, fun, and they leave you with great home improvements without having to hire a contractor. However, there are some home projects that you should never attempt on your own....

Read More
If you are looking for a Cedar Knolls electrician, then please call 973-906-8242 or complete our online request form.