IN NEED OF AN ELECTRICIAN FOR BUTLER, NJ?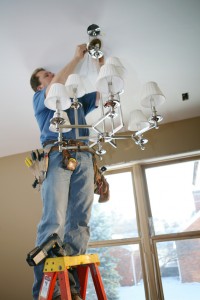 Zo Electric, LLC has been providing New Jersey with over 30 years of expert customer service and have the technical know-how to resolve any of your electrical problems as efficiently as possible. We are able to assess the individual needs of the customer and make certain that all of our work remains within their budget while clearly communicating the cost of our services upfront so there are no rude surprises. We handle projects of all sizes, from conducting a complete rewire of your home or office, to simpler electrical repairs of ceiling fans, or even installing a whole home generator. There's no reason to find yourself shocked when you see the bill from our competitors, when you can have the assistance of our locally owned and operated business that will always do right by you.
Electrical repairs can be a big deal, and in the case of many solutions, can cost you quite a bit more than a service fee if done incorrectly. We stand by the quality of our work at Zo Electric, LLC and can guarantee that we will do the job right the first time. An improperly set up electrical box can put significant strain on the power flow of yourself, causing you to bleed away money every month, and a hastily set up whole home generator can potentially damage electronics. You don't want to cut corners when it comes to the safety of your electrical setup in your Budd Lake home, so you want to make certain that you have an expert electrician on the job.
When you want the service of a confident, reliable, and experienced Budd Lake electrician, you need look no further than Zo Electric, LLC.
Butler Electrical Maintenance
Many Butler residents rely on ceiling fans to keep their rooms cool and tolerable during the summer heat. When your ceiling fan stops spinning, there's no reason to go out and buy a new one when we can have it running like new after a short visit.
There is no electrical repair in your home that our electricians cannot handle. Zo Electric, LLC is also equipped to handle complex installations, indoor/outdoor lighting, or even maintain and fix your whole home generator. We can handle your electrical repairs, and in the case of an unknown issue, diagnose the problem accurately before giving you an estimate of what it will take to fix the problem.
Don't endure the danger of handling electrical repairs on your own, or even worse, not handling them at all. Electricity is dangerous and can prove hazardous to your home if existing problems are not addressed. Call the expert electricians at Zo Electric, LLC today.
Butler Wire Repairs
If the wires in your home are getting old, you could be risking a fire every time you flip a switch. The protective insulation on wiring will eventually wear out and crack with age, and as this happens the copper within can become exposed, which is a serious concern. Electrical fires caused by old or faulty wiring are easily assessed and handled with the experience of a veteran electrician, and Zo Electric, LLC can provide that level of expertise.
If you have begun to notice any signs of faulty wiring, such as sockets proving unreliable, or lights flickering unexpectedly when they are turned on, you might want to text your existing wiring for faults. A home testing unit can easily be obtained from your local hardware store, but a visit from an electrician is always the better option. We can assess any problems with speed, let you know what the exact issue is, and see about handling it as swiftly as possible, without fuss.
Recent Articles
Commercial Electrical Safety For New Jersey Businesses

A safe electrical system couldn't be more important for a school, clinic, hospital, or other commercial business. It's so important that your electrical system is properly installed and repaired. Within these buildings are many electrical system components that also need regular maintenance. All the assets of the business, as well as the people within, rely...

Read More
Why Electrical Repairs Should Never be a DIY Project in New Jersey

The DIY movement is a rapidly growing one, and it isn't difficult to see why. DIY projects are a great hobby to take on: they're satisfying, fun, and they leave you with great home improvements without having to hire a contractor. However, there are some home projects that you should never attempt on your own....

Read More
If you are in need of the services of an Electrician in Butler, NJ call Zo Electric, LLC at 973-906-8242 or fill out our online request form.