Seeking An Electrician in Bedminster, NJ?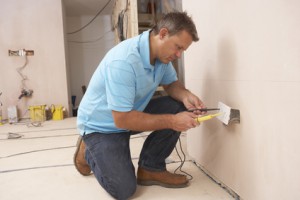 Sometimes in life it's hard to avoid having to hire a Bedminster electrician, but truth is-you're going to need one in order to get your repairs and panel upgrades completed as they are the experts on those areas. Let Zo Electric, LLC be the ones that you call for those services. We have been in business for a year now and are fully licensed and bonded.
Bedminster Electrician
There are lots of reason why you should hire an electrician. Besides, it's an electrician that can get your home's electrical mechanisms working again. So when your lights begin to flicker or your outlets just decide to stop working, it's time to hire an electrician.
An electrician is going to get it right the first time. One of the things that an electrician learns is to troubleshoot. Troubleshooting allows our techs to figure out what's gone wrong. Once your electrical mechanism is correctly diagnosed, then we can repair it the right way.
Electricity is very dangerous to mess around with. In fact, Zo Electric, LLC recommends not to do so if you do not have any electrical experience. Only a licensed electrician should be working on your home as you'll need the right permits and licensing to get the job done by today's standards.
Bedminster Wire Repairs
You'll want to hire a Bedminster electrician for wire repairs. Wire repairs are necessary for your wiring to work properly. If yours isn't, then more than likely you have a problem within your wiring. We'll use a wire tester on them to make sure they're working the way they should be.
Items like your overhead lighting need wire repairs if you go to flick the switch on and they don't work. You should never be performing the repairs on your own as you won't be able to tell if the problem lies within the wiring if you don't possess the right tools.
Wiring in most houses is out of date. No homeowner worries about their wiring until it's way too late. That's why Zo Electric, LLC offers this fabulous service. We want your wiring modernized and back to a working order as poor wiring can cause a fire in the home.
Bedminster Electrical Repairs
Some electrical repairs can easily be done at home, but major ones such as outlets and light switches should only be done by a professional. If you are in need of a repair, then you'll need to contact Zo Electric, LLC. Since 2013, we have been the ones to trust within the 07921 zip code range.
Light switch repairs are complicated because we need to get into all that messy wiring to see where the problem lies. Our techs are educated in troubleshooting such things, but the process is still time consuming. We'll have your light switch working in no time though.
If you need the assistance of a Bedminster electrician, then get in touch with the local's choice at Zo Electric, LLC. You'll never be left in the dark when you utilize our services.
What Bedminster Customers Say About Us
Zo Electric, LLC is Rated: 5 / 5
based on these 1 happy customer reviews.
---
"Zo Electric installed new bathroom lights for us, in the process the found all the old wiring that was bad, and fixed it, thank goodness!"
---
Recent Articles
Why Electrical Repairs Should Never be a DIY Project in New Jersey

The DIY movement is a rapidly growing one, and it isn't difficult to see why. DIY projects are a great hobby to take on: they're satisfying, fun, and they leave you with great home improvements without having to hire a contractor. However, there are some home projects that you should never attempt on your own....

Read More
How a Home Generator Can Protect You And Your Family in Morristown

If you have a Morristown home generator on your checklist of things to purchase in the future, then you may want to get one sooner than later. They will help you during a power outage and storms that leave you stuck for days. While others are stuck without a working refrigerator, your food will remain...

Read More
If you are looking for a Bedminster electrician, then please call 973-906-8242 or complete our online request form.