Searching For A Dependable Electrician in Basking Ridge, NJ?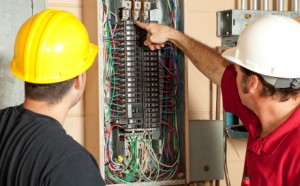 When you hire on a Basking Ridge electrician from Zo Electric, LLC, you'll receive unconquerable custom service and quality workmanship. Your home's electrical depends on how good the electricians are that you hire. If you get good ones, then the repairs will be done conveniently and skillfully, but ones that aren't licensed or bonded can ruin your electrical and make for quite the disaster.
Basking Ridge Electrician
An electrician's job is to posses a technical know-how for maintaining, testing, repairing and developing electrical wiring and equipment in your home. We live in a world fueled by electricity. If that's taken away from us, then we fell crippled. You won't need to worry about that at Zo Electric, LLC.
Electrical technicians who study and stay up-to-date on electrical standards are able to keep your home's electrical devices monitored and running efficiently. Call Zo Electric, LLC as we are the dependable leaders in electrical repairs.
Our electricians are specially trained to take on any of your electrical repairs. Items such as your smoke alarms and new outlets can easily be fixed or newly installed. You're always in good hands when you go with the electricians at Zo Electric, LLC.
Basking Ridge Wire Repairs
A Basking Ridge electrician from Zo Electric, LLC is always waiting to take your service call. Your home's wiring is just as important as everything else. You should take things seriously such as your electrical panel.
If you live in an older home and haven't had an electrician check out your panel box in years, then now is the time to contact Zo Electric, LLC. Panel upgrades will help keep your home's electrical more modernized.
Mostly your electrical panel will affect your insurance. Insurance companies look at older panels and view than as nothing more than a fire hazard. You don't want yours viewed like that do you? Call Zo Electric, LLC to keep your home a lot safer.
Basking Ridge Electrical Repairs
We're the electric company where even the owner works in the field himself. We're that dedicated to seeing your repairs the whole way through. Safety is our number one concern as we practice it in the field everyday. Never trust an electrician that works haphazardly as that can cause major issues. Always trust ones that have a lot of experience.
Contact your choice Basking Ridge electrician today and find out how they can get your home's electrical working properly and efficiently. You can't go wrong when you have Zo Electric, LLC take care of any of your home's electrical mechanisms. Call us today for a complete list of details.
Recent Articles
Landscape Lighting Combines Artistry and Functionality

History tells us that landscape lighting has existed way before modern times. Even centuries ago, this home improvement technique was used not only for decoration but also to improve social interaction and safety at night. In selecting outdoor lights, several factors will be involved such as energy conservation, cost-effectiveness, environmental concerns, safety, and the suitability...

Read More
Security Lighting That Will Prevent Theft In Your East Hanover Home

Homeowners that live in pure fear that their homes will be burglarized need to pay attention as this will prevent your home from being broken into. Last year burglaries in the area went down to halfway. That's because homeowners wised up and had East Hanover security lighting installed. Security lighting will provide the homeowner with...

Read More
If you are looking for a Basking Ridge electrician, then please call 973-906-8242 or complete our online request form.