Your Solution For Electrical Problems In Rockaway, NJ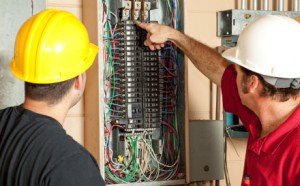 When your lights flicker, outlets spark, or your electrical systems just seem to be on the fritz, then you need to have your home serviced by a licensed and insured Rockaway electrician.  A professional electrician can make all the difference in your home repairs and installation, and considering the dangerous nature of electricity, this is a service that you should never skimp on.  When you turn to the experienced staff at Zo Electric, LLC you can rest easy getting the service you need, so you will find your electricity woes handled swiftly, all while remaining easily within your budget.
Turning to the experienced staff at Zo Electric, LLC means you will receive years of service experience that will help to provide you with the high-quality results that you require.  We have been working in the industry for over 30 years, and during that time have learned how to handle any electrical repair, maintenance, or installation job with ease.  If you are after fast, friendly service, affordable care, and professional, trustworthy electricians, you cannot go wrong in turning to Zo Electric, LLC.
Rockaway Wire Repairs
Are you aware that the vast majority of home fires end up being caused by faulty wiring?  Keeping your wires in good shape is a must, and if the wiring in your home is getting old, you may want to consider having an inspection conducted to ensure that everything is up to code.  If you find that your wiring is in need of replacement, the professionals at Zo Electric, LLC will be able to handle this job without fuss.
We are well versed in what it takes to repair and replace faulty wiring in your home or business, and are even available to conduct whole home or commercial re-wires.  Don't hesitate if you think you have a wiring problem; make certain that you have the issue handled quickly, by an experienced repair professional.
Rockaway Electrical Repairs
There are projects that the do-it-yourself approach is fine with, but then there are those that you need to have handled by a licensed professional.  When it comes to conducting electrical repairs, there is no substitute for experience, training, and the right tools for the job.  Due to its dangerous nature, electricity and electrical repairs are best handled by someone who knows the ins and outs of any needed solution.
At Zo Electric, LLC we will help you identify any issue you might have with your electrical systems and appliances, and help you take action on the correct solution.  We can help eliminate the guesswork, and get your home back in working order in no time.
Recent Articles
Why Electrical Repairs Should Never be a DIY Project in New Jersey

The DIY movement is a rapidly growing one, and it isn't difficult to see why. DIY projects are a great hobby to take on: they're satisfying, fun, and they leave you with great home improvements without having to hire a contractor. However, there are some home projects that you should never attempt on your own....

Read More
6 Reasons Commercial Electrical Maintenance Is Important

Electricity is a critical part of the daily operations at any kind of commercial or industrial property. No matter what kind of industry you're in, your electrical system is integral to what you do each day. Your electrical system is so essential to your daily tasks that it can be easy to take it for...

Read More
If you are in need of a Rockaway electrician, then please call 973-906-8242 or complete our online request form.