Do You Want Low Voltage Lighting For you New Jersey Home?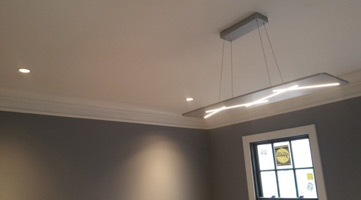 If you're on the hunt for New Jersey low voltage lighting, then call to meet the lighting experts at Zo Electric, LLC. For years we have been illuminating the area with our outdoor lighting. If you feel that there isn't enough lighting around your home, then please take the next step and have Zo Electric, LLC do something about it for you.
As in its name, low voltage lighting does not utilize a lot of electricity. This is good news for your electric bill. Stop paying higher energy bills when all you have to do is get low voltage lighting installed in your outdoors.
Low voltage lights increase the energy efficiency in your home. Compared to incandescent lighting, low voltage can omit just as much light, but without all the energy by at least 20%. You can't beat that. Call Zo Electric, LLC and we'll have your lights in for you as soon as you call.
You're going to be a lot safer using low voltage lighting. Most homeowners think that more is better when it's the complete opposite. Less is better when it comes to your outdoor lighting. New Jersey low voltage lighting can protect your home.
You'll have a worry-free security system installed at practically less than you would have to pay for an entire home security system. Home security systems are good to have, but if you feel that low voltage lighting would do the trick, then it's the cheaper way to go.
Your family is going to love your new lighting knowing that it's environmentally friendly. There is an increasing demand for energy conservation anymore as more & more people are wasting it. Utilizing low voltage lighting is a great way to do your part in helping to save our environment.
These lights are easy to install, but only as far as an electrician is concerned. If you want quality lighting that you're not going to pay a lot for monthly, then go with low voltage lighting. You'll be pleased that you chose this route as low voltage lighting provides your home with a sense of security.
When you go with low voltage lighting, you'll realize that it is relatively smaller than your traditional incandescent bulbs and other types of lighting. What exactly does that mean to you? It means that you can install low voltage lighting where incandescent bulbs cannot go.
For New Jersey low voltage lighting always trust Zo Electric, LLC. We're the guys that you can always count on for quality outdoor lighting that's going to beautify your home. Call us today and see how much we can improve your outdoor area.
If you are looking for a New Jersey low voltage lighting specialist, then please call 973-906-8242 or complete our online request form.