Do You Want Quality Lighting in New Jersey?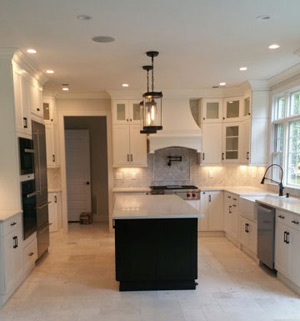 You need New Jersey lighting for many things in your home. If you didn't have good lighting, then more than likely you'd be living in darkness and who wants to live that way? Contact Zo Electric, LLC and we'll brighten up your day through our interior lighting service. We can do installations or repairs inside your home no problem.
It's important to consider the mood environment that you want for the rooms in your home. For example, your living room would have much different lighting than your kitchen area would. This goes true for just about any room in the home.
Different lighting has different effects. Color temperatures can change the way a room looks. That's why it's important to have a qualified electrician install your lighting. Only a certified electrician can provide lighting for your home that's going to make a difference.
Lighting affects people in many ways. It keeps them awake in office conditions and it helps them to relax in a home setting. If you're looking for New Jersey lighting that's going to change your moods, then go with Zo Electric, LLC.
There are lots of great lighting types on the market to choose from. Which one best fits you? That's your discretion. If you want good, quality lighting, then you know where to turn. Zo Electric, LLC does lighting installations of all types as well as repairs.
If you're building a home or just updating yours, then make sure that you have quality lighting installed. It's going to make quite the difference in your home. When your home is a little brighter so will your mood. Stay positive through lighting.
Recessed is just one type of popular lighting that a lot of homeowners go for as there is little maintenance needed on them. This lighting will increase the aesthetic appeal of your home and provide more space as they do not widen into the room's space. Recessed lighting makes a room feel bigger and open.
It doesn't matter if you go with recessed or track lighting, they are all terrific in their own different way. Always call an electrician to install your lighting. If you want your home to shine brighter, then you're going to have to put forth some extra effort and contact a dependable electrician.
You always get your money's worth when you contact Zo Electric, LLC. We are the most dependable and reliable electricians in the area. If it's New Jersey lighting that you want, then it's a New Jersey electrician that you'll get. Call us today to schedule an appointment.
If you are looking for a New Jersey lighting expert, then please call 973-906-8242 or complete our online request form.