Are You Searching For Lighting Installation in New Jersey?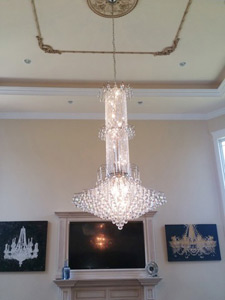 If you just bought a new home or are getting a remodel done, then call in the New Jersey lighting installation experts. Zo Electric, LLC are the ones who can brighten up your life. Take the chance and call us today. Chances are that you won't be sorry when you see your new lighting. We're the electrical professionals that want to see you happy with your new lighting.
Light controls can save you lots of money. You may end up paying a little more for these controls, but in the long run, they are going to improve on productivity. Light helps improve on lots of things including productivity. A visual environment makes it easier to learn and function in.
Darker environments do not see a lot of improvement as far as negative moods are concerned nor do they help with the visual. Light is necessary to help improve mood and brain function. Just think of it like this- if you had to sit and read a book in a dark cave, do you think that you'd retain anything?
Call Zo Electric, LLC for a New Jersey lighting installation. We'll get you a light control that saves money and time. Dimmers, within light controls, tend to decrease electricity by at least 4-9%. That means you'll see a Changsha in your electric bill if your use the dimmer more.
You can get a lot out of light controls, but what about lighting installations? If you want great lighting, then you'll need to contact Zo Electric, LLC. Your home needs to be seen and the only way to make that happen is through better lighting.
Better lighting in your home will help you see better, show off its features and create an environment. You can have the look that you've been going for as long as you have Zo Electric, LLC install your lighting. We'll make you love your home over and over again.
Ways to choose lighting:
Decoration and first impression – You can make any room come back to life through lighting. Your home is never a home unless it's lit the way you want it to be. Use lighting for decoration and for fist impressions. When people walk through your home, they will know you mean business.
Hallway and stairway lighting – Make sure to highlight your areas where you'll have the most traffic. Obviously the hallway will have lots of traffic as your family members travel through one room to another. The same goes with your stairway.
Embrace your living area – Your living room needs lots of lighting. Lighting helps create a more enjoyable atmosphere and allows for proper visibility.
Get a New Jersey lighting installation from Zo Electric, LLC and you'll feel a lot better about the looks of your home. Call to speak with one of our representatives today.
If you are looking for a New Jersey lighting installation professional, then please call 973-906-8242 or complete our online request form.