In Need of Landscape Lighting in New Jersey?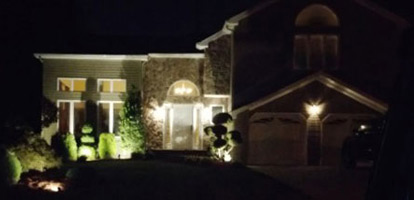 Are your outdoors looking band? Do you think that New Jersey landscape lighting would help make an improvement to your outdoors? If you do you're going to need to call in the lighting professionals at Zo Electric, LLC. We'll make your outdoors a more enjoyable place again. Contact us today and we'll come out to provide you with an estimate.
Why should you add lighting to your yard? There are many reasons why you would do that. First of all, outdoor lighting is a very popular trend among homeowners. It's also dramatic way of showing off your outdoors.
When you have outdoor lighting installed by professionals, it's going to increase the security around your home. Zo Electric, LLC will strategically place the lighting around your home so that there will be no chance of any burglaries.
Usability is yet another reasons why so many homeowners are having landscape lighting installed in their exterior. By illuminating areas that were otherwise closed off after dark allows for you to use them now. Areas such as your deck and other sitting areas make for great places to sit and enjoy the evening.
New Jersey landscape lighting will change the look of your outdoors instantly. No more will you have to stumble around trying top find the path to your front door. Visitors can come to your next party without you having to worry about them falling or tripping over you flower bed.
Most of all, you'll want landscape lighting because it increases the beauty of your home. How else can you show off what your home looks for at night whenever you don't have enough adequate lighting? Take back the look of your home by calling in the lighting pros from Zo Electric, LLC.
If you might be interested in landscape lighting, then give us a call. We'll be more than happy to provide you with ideas and be able to answer your questions regarding your current lighting situation and how to improve on it.
Get ready for a summer of neighbors gawking at your lighting. You'll draw lots of positive attention to your home with landscape lighting. Contact us today and change the appearance of your home overnight. Our lighting has lots of advantages over traditional porch lighting.
If New Jersey landscape lighting is what you've been wanting for some time, then just call us in and we'll do the rest. Outdoor lighting is important to the look and feel of your outdoors. Get yours installed today and you'll see what a difference that it makes.
If you are looking for a New Jersey landscape lighting expert, then please call 973-906-8242 or complete our online request form.