Looking for Electrical Troubleshooting in New Jersey?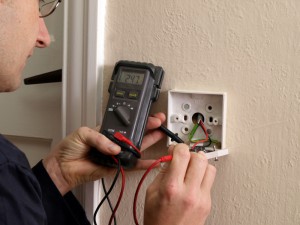 Looking to find a reputable electrician that can perform New Jersey electrical troubleshooting in your home? We'll you've come to the right place. Zo Electric, LLC can troubleshoot your home's electrical problems. All you have to do is make the appointment and we'll come out to do the rest. Troubleshooting your problems will help keep your electrical devices going.
It doesn't matter how old your home is. Chances are if your home is older, then you're going to have electrical problems of some sorts. But, newer homes are prone to these problems as well. Many times, your home will show warning signs before a problem gets worse.
Before any electrical problem gets worse, contact Zo Electric, LLC. Troubleshooting your issues will make things better in the home. For example, if your having problems with your electrical outlets you wouldn't go and stick a screwdriver in it to see if it works or not. You'd hopefully call in a pro who can diagnose the problem.
Once you know the warning signs, that's going to make it a lot easier for repairs to be done. You should not do electrical repairs on your own as they are not safe and can result in injury. Call in a licensed and trained expert to troubleshoot your circuits.
New Jersey electrical troubleshooting is best done by Zo Electric, LLC. Your home will be a lot safer when you employ an electrician that knows their stuff. Always hire one that has references and experience. You don't want to hire an amateur to perform repairs or upgrades in your home.
Go with who all your friends go with whenever they need troubleshooting done. They cal Zo Electric, LLC and you should to. The owner and operator of Zo Electric, LLC has over 30 years of experience alone. That's why you need us. Cal land we'll be out in no time.
Your circuit breakers are deigned to trip whenever a circuit becomes overloaded. That's common sense when it comes to your home's electrical system, but if the problem is worse than that, then you're going to need the assistance of a real electrician.
Only a licensed electrician can safely get your home's electrical system back to a working and properly functioning order. You will no longer have to worry about surges or electrical shocks. Take back your home and let the experts troubleshoot it the right way.
If you need New Jersey electrical troubleshooting done, then please don't hesitate to call Zo Electric, LLC. We will make your home's electrical system our priority. Make the right move and call us today. You'll thank us for it.
If you are looking for a New Jersey electrical troubleshooting specialist, then please call 973-906-8242 or complete our online request form.