Outlet Repairs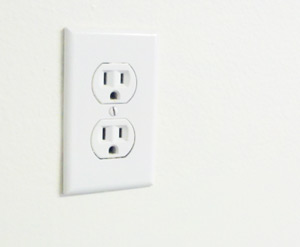 When it comes to finding the right team of experts to take care of your New Jersey outlet repairs, you have to be certain that you have found the most reliable crew around. Electrical wiring and work is not something that should be taken lightly or handled by anyone that lacks the proper training, experience, licensing and insurance. For all of these reasons, it makes sense to call on the team here at Zo Electric in order to get the job done.
With over thirty years of professional expertise behind the name through the background of our founder, you can feel certain that we know how to get the job done. Not only that, but that we take this line of work seriously, which is reflected in the results that we get. We have answered too many service requests that are the result of a DIY job or work that was completed by a "so-called" pro who claimed they know how to take care of this work. Don't take a gamble with work this serious.
Outlet Repair Specialists
When it comes to electricity and outlets, it is important to not take this for granted, nor ignore the importance of letting professionals take care of the related service work. The trouble is that if you have issues with one or more of your outlets, this is about more than being inconvenienced, it is about making sure that you, your loved ones and your home is safe. Ignoring these existing problems or letting someone less-than-reputable take care of the work can lead to electrical fires, damage to your property and even injury or fatality.
Aside from having your outlet just not work, you may notice other signs of trouble such as a light that flickers when plugged into that outlet. Any red flags should alert you to call a pro in to take a look. You never want to take a chance or put off addressing the need for service when it comes to electrical work.
New Jersey Outlet Repairs
Once you are aware of the fact that you need to hire an industry expert to take care of your outlets or other electric work, you can rely on our team here at Zo Electric. We take great pride in the work that we do and that is evident in the results we are able to deliver to our customers. Get in touch with us now so that these issues can be addressed immediately. For all of your New Jersey outlet repairs trust in our experts to help you take care of this or any other related work.
New Jersey Outlet Repair Services We Provide:
Outlet Repairs
Electrical Outlets
Electrical Sockets
Electric Sockets
Wall Outlet
Electric Outlet
Power Outlet
Wall Sockets
Electrical Sockets
Power Socket
Wall Socket
Outlets
Recent Articles
Why Electrical Repairs Should Never be a DIY Project in New Jersey

The DIY movement is a rapidly growing one, and it isn't difficult to see why. DIY projects are a great hobby to take on: they're satisfying, fun, and they leave you with great home improvements without having to hire a contractor. However, there are some home projects that you should never attempt on your own....

Read More
Top Electrical Tips to Keep You Safe This Winter

New Jersey winters can be brutal, but there are plenty of creature comforts that help make hiding inside more bearable, if not downright enjoyable. On the other hand, this is also a time of elevated instances of fires, injuries and other disasters, that could have been avoided. In fact, studies indicate that 43% of all...

Read More
If you are looking for a New Jersey outlet repair specialist, then please call 973-906-8242 or complete our online request form.