Are You Looking For The Service Of An Electrician In Lake Telemark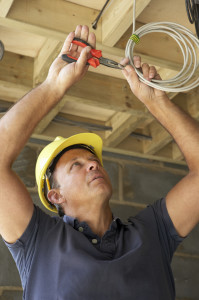 If the last time you got a bill from electrician and found yourself shocked at the expense, then you need to make certain that you go with Zo Electric, LLC the next time you are in need of the service of a licensed electrician. We will provide you with upfront assessments so there are no rude surprises when it comes to your bill, and will work with you to make certain that we remain within your budget. You can get the service of reliable, trustworthy professionals, who will never overcharge you for their work. Not only that but we will only provide you with the service you need, avoiding any hidden fees or pushing to have unnecessary work done. You will get the service from an area professional that you can trust when you give us a call for your Lake Telemark electrical services.
Having you work performed by a skilled electrician will make all the difference. Zo Electric, LLC is a locally owned and operated business that has been providing Lake Telemark with top-quality work for over 30 years, building a legacy of excellent customer service and work that you can count on. We do our best to provide every customer with service that exceeds expectations.
Lake Telemark Electrical Repairs
You should never endure the hazards associated with trying to take care of your electrical repairs yourself. Due to the nature of electricity and the dangers of shock, you should always get the assistance of a professional electrician when repairs are needed. Calling on Zo Electric, LLC means getting quality service that will be able to handle any repair solutions. We will be able to repair your ceiling fans and get other malfunctioning electrical appliances back in working order after only a short visit. We have the right experience to repair a wealth of fixtures, including lighting, home generators, and even take care of complex installations. We'll even diagnose problems accurately and provide an upfront assessment of costs. Get the assistance of the experts at Zo Electric, LLC today!
Lake Telemark Wire Repairs
If the wires in your home are beginning to get old, then you are drawing increasingly close to risking a fire in your home. As the protective insulation on wiring thins with age, it becomes likely that a spark can result in igniting insulation or other materials inside your walls. However, these kinds of problems are easily assessed with the right tools and training. Our experienced electricians will be able to identify any issues that you might have with your wiring, isolate the issues, and provide a proper and swift solution. When your Lake Telemark home needs its wiring repaired, you only need to look as far as Zo Electric LLC.
Lake Telemark Electrical Repairs
If you're in need of emergency electrical repairs, then do not hesitate to call on the service of Zo Electric, LLC. Our technicians keep all the usual parts on hand, so we can easily handle most repair tasks with expediency. In the cases that we do not have the needed parts on hand, we'll be able to get them swiftly to provide you with the solution you require in as little time and with as little cost as possible. Don't settle for work from an amateur when you can get the professional experienced electricians at Zo Electric handling any of your electrical repair needs.
Recent Articles
Is Knob and Tube Wiring Safe?

In the late 19th and early-to-mid 20th centuries, knob and tube wiring was considered state-of-the-art. Most houses that were built during this time period do have knob and tube wiring—that is, if it hasn't been replaced. If your home still has knob and tube and wiring, professionals do recommend replacing it. At the very least,...

Read More
Security Lighting That Will Prevent Theft In Your East Hanover Home

Homeowners that live in pure fear that their homes will be burglarized need to pay attention as this will prevent your home from being broken into. Last year burglaries in the area went down to halfway. That's because homeowners wised up and had East Hanover security lighting installed. Security lighting will provide the homeowner with...

Read More
If you are looking for Lake Telemark Electrical Services, then please call 973-906-8242 or complete our online request form.