Are You Looking For The Service Of An Electrician In Kinnelon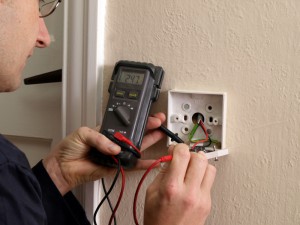 If your last electricity bill was a shocking experience, then you need to see about getting the service of a professional electrician to get those expenses back in line. If your electrical systems are not working at peak efficiency this can result in an increase in your monthly expenses, and these costs will quickly add-up. When compared to what you could continue to waste due to inefficiency, paying for the service of a professional electrical contractor is completely negligible.
When you get the service of the experts at Zo Electric LLC you will be provided with the work of experienced professional electricians who will avoid any unwanted surprises when it comes to your bill by providing upfront communication through the entire process. We will make certain that the work exceeds your expectations and is able to be easily fit within your budget. We add the personal touch to our work, assessing the needs of the individual and only providing the work that you require, not trying to stack on unnecessary services to increase a bill.
Our trained electricians are able to make a huge difference when it comes to your electrical needs, and have built up 30 years of experience serving the Kinnelon area. You will get honesty and integrity whenever you call on our contractors, as each and every one of them takes pride in their work and the contributions they have helped make to Kinnelon. You will get the absolute best customer-service whenever you call on Zo Electric LLC.
Kinnelon Electrical Maintenance
Did you know that the majority of house fires are caused by faulty electrical wiring? This is one of the major reasons that proper electrical maintenance in your home and office is an important duty of a property owner. Maintaining the quality of your outlets, wiring, and electrical fixtures and appliances does more than just lower your monthly bills, it also provides a much safe environment to work or live within. Our contractors know exactly what to look for when conducting maintenance, and will be able to easily identify issues that need repair or replacement, such as aging wiring that could easily become faulty. For your electrical maintenance needs, give Zo Electric LLC a call!
Kinnelon Electrical Repairs
If you're in need of emergency electrical repairs, then do not hesitate to call on the service of Zo Electric, LLC. Our technicians keep all the usual parts on hand, so we can easily handle most repair tasks with expediency. In the cases that we do not have the needed parts on hand, we'll be able to get them swiftly to provide you with the solution you require in as little time and with as little cost as possible. Don't settle for work from an amateur when you can get the professional experienced electricians at Zo Electric handling any of your electrical repair needs.
Recent Articles
Landscape Lighting Combines Artistry and Functionality

History tells us that landscape lighting has existed way before modern times. Even centuries ago, this home improvement technique was used not only for decoration but also to improve social interaction and safety at night. In selecting outdoor lights, several factors will be involved such as energy conservation, cost-effectiveness, environmental concerns, safety, and the suitability...

Read More
Is Knob and Tube Wiring Safe?

In the late 19th and early-to-mid 20th centuries, knob and tube wiring was considered state-of-the-art. Most houses that were built during this time period do have knob and tube wiring—that is, if it hasn't been replaced. If your home still has knob and tube and wiring, professionals do recommend replacing it. At the very least,...

Read More
If you are looking for Kinnelon Electrical Services, then please call 973-906-8242 or complete our online request form.