Understanding Your New Jersey Home's Electrical Systems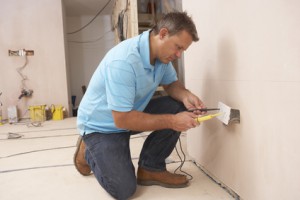 At Zo Electric, LLC, we like to help our customer understand their home's electrical systems so when problems arrive, they're aware of it. If you have a home in New Jersey and you have any questions at all about your home's electrical systems, please feel free to give us a call. We'll gladly help you understand what's going on with your home's electrical equipment.
We've put together a little bit of information for you that we hope will help you gain a little basic knowledge about your home's electrical system. There's a lot you probably already know, but perhaps there are some things you didn't. If you even need help with your electrical system or just want to add some additional lighting or need any of our other services, give us a call!
Electrical Panels
Panel or Breaker Box – The electrical panel is where all the wiring connects that comes from the power company's outdoor electrical meter to the inside of your home. Often located in garages or an inside closet or pantry area, the panel box is also where you can shut off the home's main power.
Often in the case of older homes or mobile homes, there's either an additional main panel box outside somewhere by the meter or there's only the main panel box located on the home's exterior near the meter. If you have an outside meter and no controls inside, you need to have your panel box inspected. You may be in dire need of an upgrade.
Breakers – Breakers hold the fuses that can be replaced when the breaker trips. When a breaker trips, it cuts off the electrical power that would otherwise travel through the wiring.
Fuses – The fuse will blow when there's a surge in power or too much is being asked of that particular line of wiring. For instance, if you're trying to use too many large appliances at one time that your system can't handle, the fuse will blow, the breaker will trip, and you won't have power down that line of wiring until you get the fuse replaced. If fuses keep blowing or the same breaker keeps tripping, you have a problem that needs attention.
Electrical Outlets
Your home's electrical outlets are where you plug in all your appliances, gadgets, and entertainment equipment. Outlets should be easy to use and have no resistance when you try to plug something in. Otherwise, there's a problem with your outlet that needs to be addressed. When objects are plugged in, they should easily go in and fit nicely in the receptacle. You shouldn't find the plug slipping out or hanging halfway out of the outlet.
Electrical Switches
Light Switches – Light switches of course control your home's lighting. Each switch controls one or more overhead lights but can also control an outlet if wired to it. For instance, you may have a wall switch that when turned on will turn on a lamp that's plugged into a nearby outlet. This is useful for many people because it's an easy way to control lights or any other appliance or gadget receiving power from the outlet.
Electrical Main Power Switches – Your main breaker box, or electrical panel, is where your main power switch for your home. When turn off, you should have no power running through any of your home's wiring from the breaker box throughout the home. Any time your wiring or other components has a dangerous spark or problem, this is where you'll want to shut off the main power to the home.
If you are looking for a Morris Plains electrical safety inspection professional, then please call 973-906-8242 or complete our online request form.