Landscape Lighting Combines Artistry and Functionality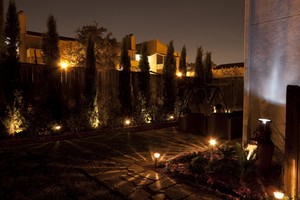 History tells us that landscape lighting has existed way before modern times. Even centuries ago, this home improvement technique was used not only for decoration but also to improve social interaction and safety at night.
In selecting outdoor lights, several factors will be involved such as energy conservation, cost-effectiveness, environmental concerns, safety, and the suitability with the existing landscape.
One important thing to consider is whether conventional or unconventional sources of energy will be used. Electricity, which is readily available to anyone, is the primary source of power we use. Other alternatives include solar energy, fossil-based energy, propane, natural gas, and fire. Among these sources, fire is the oldest technique used in landscape lighting, just think of torches being put in the ground around a campsite.
Landscape lighting is essential if you want to fully appreciate your property after dark. It's also great for highlighting certain outdoor components such as the home's architectural style, statues, water features, and so on.
The design aspect is basically an art that needs to be carefully planned and carried out. You can find thousands of lighting accessories today which will add to the beauty of a home as well as provide safety and security.
When planning where you want to install outdoor lights, you'll want to consider the existing landscape which includes plants, fixtures, statues, trees, sidewalks and everything else that should be carefully considered. All these things will affect the overall look of your property.
Designing The Wiring Layout For Landscape Lighting
Landscape lighting involves several elements including power supply, wiring, and the electrical fixtures. The power which supplies the landscape lights will need to be affordable, consistent, reliable, and environment-friendly. Consistency is important to assure that the beauty of the landscape is able to be appreciated every time somebody comes across it. However, the functional aspects should also be a part of the design. Low voltage lighting can help you save energy.
Lighting should last for the entire duration that the sun is out for every single night of the year. Low voltage lighting and solar lighting can be used to reduce pollution on our planet. By combining several light types, you won't have to worry about a high electric bill. And it should be practical and cost-effective in order to get the most out of the home improvement project.
Before installing the landscape lights, the wiring layout will have to be planned. Fortunately, wiring for landscape lighting is very easy to conceal. Unlike installing lights indoors where the wire is hidden under the walls or in the ceiling, wiring in an outdoor setting is easy to hide under the ground.
However, it does take careful planning and the layout design of the wire should be done beforehand so that it is installed safely and sufficiently for all the landscape lights.
Additional Function In Landscape Lighting
Also, different electrical fixtures can assist a homeowner when they need to do things like use an electric blower on the porch. There are lights which come with a grounded outlet as well as outdoor outlets so you have easy to use outdoor power.
Landscape lighting should be executed after carefully planning every aspect that may affect the overall look of the property. All functional and aesthetic aspects should be involved in the landscape lighting design.
About The Landscape Lighting Installation
At Zo Electric, we understand what it's like to want to do things yourself. But if you aren't trained and aren't a licensed electrician, please don't try to install the landscape lights yourself. Even in our industry of professionals, it is all too easy to get electrocuted or cause a house fire. In fact, faulty wiring is the number one cause of house fires in the U.S. And you sure don't want to risk shocking a loved one or friend who visits later down the line. If you need landscape lighting installation in New Jersey, give us a call.
If you would like more information about Landscape Lighting in New Jersey, please call our expert electrician at 973-906-8242 or complete our online request form.