Commercial Electrical Safety For New Jersey Businesses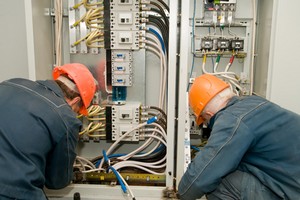 A safe electrical system couldn't be more important for a school, clinic, hospital, or other commercial business. It's so important that your electrical system is properly installed and repaired. Within these buildings are many electrical system components that also need regular maintenance.
All the assets of the business, as well as the people within, rely on a safe environment. When the electrical system is out of code or there are problems that need repair, it must be taken care of. Otherwise, there can be a risk of fire or electrical shock.
If you are responsible for the business, it's important to have the electrical system inspected and maintained on a regular basis. For this, you will need a reliable New Jersey electrician.
If you need an electrical inspection, repairs, or maintenance, call Zo Electric, LLC, your New Jersey electrician. Whether you choose us or someone else, please make sure they are reliable and schedule the services you need soon.
Why You Need Electrical Repairs
The NFPA statistics state that 47,820 home structure fires during 2007 to 2011 were due to electrical malfunction or failure. There were 1,518 injuries, 455 civilian deaths, and $1.5 billion in property damages.
Each year, there are a stunning number of fires reported in non-residential structures. In 2015 alone, 113,500 structures were damaged by fire with $3.5 billion in damages. A huge number of them were caused by electrical problems.
Commercial Electrical Safety Tips
1. Always hire a licensed, experienced electrician. They should be licensed as a commercial electrician. Make sure inspections are done by local code authorities and that the work passes.
2. Don't add adapters to outlets or use extension cords permanently. Have your electrician add a new circuit to the electrical system if your building doesn't have enough outlets.
3. Invest in commercial surge protection equipment. This will be installed directly into your electrical system. It works automatically at all times and protects everything in the entire building. A portable unit will only protect the appliances plugged into them. Many portable surge protectors only work once and then you are supposed to replace them. Look carefully at the instructions. The next time a surge occurs, the equipment can be fried. Also, surges can destroy an entire circuit of wiring and everything plugged in along that circuit.
If you have questions or are looking for a reliable New Jersey electrician, please call 973-906-8242 or complete our online request form.