In Dire Need of Office Fit Outs in New Jersey?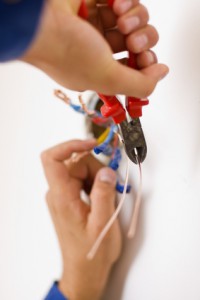 When seeking New Jersey office fit outs, then call in the electrical professionals from Zo Electric, LLC. We can take care of all your office needs and so much more. When you hire our electricians for the job, you bet we can take your office to the next level. Make an appointment today to see how we can wire your office and keep it up to date.
When office conditions are good that means everything is working properly. The microwave, in the office, is heating up employee lunches and lighting is making them more productive. You can start this process by calling Zo Electric, LLC.
The task is most daunting, but not when you hire qualified professionals. Electricians from Zo Electric, LLC know what they're doing and can make the transition seem rather easy. You'll want to hire our guys because they have expertise that can create a safer environment.
Where a lot of businesses fail do to a lack of motivation when it comes to an office fit out. They either don't have them done in time or don't know where to start. We can help you with the electrical part of the job as we're the New Jersey office fit outs specialists.
The first step in the fit out process is to hire on the right contractors for the job. The New Jersey area is filled with electrical contractors, but there is only one that knows office fit outs and that's Zo Electric, LLC. We'll get the job done correctly.
There are lots of areas that need attention in the office such as a break room. Now a break room is often ignored by management, but helps motivation when it comes to production. Appliances will need wired such as the refrigerator and microwave and lighting needs to be installed as well.
Another area that needs electrical services is the main work area as that will be where you employees spend a majority of their time. Computer terminals need wired and good lighting needs installed. You'll see better production and raised moral.
You can't go wrong with our office fit out service. If you're having a tough time with the process, then call to speak with one of our representatives. We'll be more than happy to move you forward in the process and create less stress in your life.
Go with Zo Electric, LLC for New Jersey office fit outs. Your company depends on the expertise of a good electrical contractor and we have what you're looking for. You'll always get what you pay for and all of your commercial needs met. We want to create an office that's going to be the best as we do the best electrical work.
If you are looking for a New Jersey office fit outs expert, then please call 973-906-8242 or complete our online request form.