Are You Seeking New Construction in New Jersey?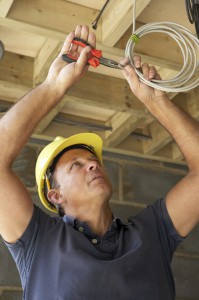 If you're building a new business or adding on to the one you have, then you'll want to seek out New Jersey new construction services from Zo Electric, LLC. You'll be amazed at how well we can wire your entire business. Your wiring will be installed by professionals who have year worth of experience.
Adding on to your business will help provide more space in the business while getting more customer base which means that you'll have a lot more room for people to shop. A new addition will also enhance the value of your business. If you ever go to sell the business, then you're already two steps ahead as additions and commercial wiring helps modernize the space that you already have.
Zo Electric, LLC will install wiring in any part of the business. Your business's electrical components depend on good wiring. Hiring an electrician is the best thing that you can do as electricians are qualified professionals who have wiring skills.
In order to move forward on your remodeling project, you're going to need the help of a New Jersey new construction expert. We've been lending our hand in remodeling jobs since 2013, but the owner and operator of Zo Electric, LLC has been at it for over 30 years.
Wiring jobs are best left to people who possess knowledge in that area as wiring a whole business is not a simple task. In order to wire your business you must know where to lay out the wiring and know what type of wiring will handle your appliances.
You wouldn't use the same wiring for your telephone as you would for your washer & dryer. Make the smart move and choose an election that knows the differences between aluminum wiring and knob & tube.
You can say that wiring is like snowflakes in that there are no two alike. It takes a knowledgeable expert to realize the differences and be able to install it safely. Zo Electric, LLC practices safety in every wiring job they do.
We promise your business will have clean and good electricity running through it. It doesn't matter if it's a remodel or new construction, we've got you covered at Zo Electric, LLC. You're in good hands when you hire on our electricians.
Call today to speak with a representative who is knowledgeable and able to answer any of your questions. We realize that a venture like remodeling can be fun yet frustrating as you need to find different contractors for different parts of the remodel process itself.
Our New Jersey new construction electrical wiring services can get you on your way to enjoying your business a lot more. Don't waste time as electricians need to do the wiring before other facets of the remodel can be done.
If you are looking for a New Jersey new construction expert, then please call 973-906-8242 or complete our online request form.