Ceiling Fan Repairs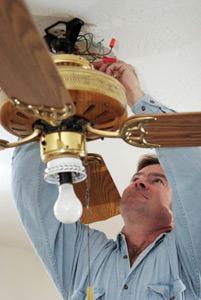 If you are in need of someone to take care of your New Jersey ceiling fan repairs, it is important to make sure that you call in the right team of experts in order to get the job done. Electrical wiring and work is serious business and something that should only be handled by professionally trained and industry experienced technicians. So when only the best will do, give our experts here at Zo Electric a call and get the quality work that you need and deserve.
There are too many instances when a homeowner attempts to take care of repairing their ceiling fan, or other electric fixtures, by watching an informative video online. This is not the type of training that should take the place of what really goes into making someone a master electrician. Nor should you entrust someone who claims they know how to handle this type of work but lacks the training, licensing or insurance needed to correctly tackle this type of work. Get in touch with us today and help avoid the possibility of shock, fire, injury or even death.
Professional Ceiling Fan Repairs
As with any electrical fixture in your home, there are countless things that can go wrong with your ceiling fan. When you notice you have a problem with your ceiling fan, you need to be sure that you have the issue addressed immediately; if something is wrong inside the ceiling or the housing unit it could start a fire and you wouldn't know until it is too late. Some common complaints people have that result in needing repairs for the ceiling fan include: flickering of light, speed seems off, either the light or the fan does not work at all and that is aside from issues like wobbling which can put great stress on the wiring. Don't take chances, call in a pro to address these issues.
New Jersey Ceiling Fan Repairs
When it comes to getting the work that you need and at a price that you can afford, you can count on us. We care about taking care of our customers and helping make sure that you and your family are comfortable, healthy and safe in your home. Don't settle for less than the best when it comes to the work that you get completed.
If you already know that you need a professional in order to take care of your New Jersey ceiling fan repairs, then give us a call right away. You can count on the skilled crew of experts here at Zo Electric to take care of this type of work for you. Give us a call today and let's get started.
New Jersey Ceiling Fan Repair Services We Provide:
Ceiling Fan Repairs
Ceiling Fans
Ceiling Fan
Ceiling Fan Parts
Ceiling Fans with Lights
Ceiling Fan Repair
Modern Ceiling Fans
Fan Parts
Replacement Fan Blades
Ceiling Fan Replacement Blades
Repair Ceiling Fan
Ceiling Fan Electricity
Recent Articles
Understanding Your New Jersey Home's Electrical Systems

At Zo Electric, LLC, we like to help our customer understand their home's electrical systems so when problems arrive, they're aware of it. If you have a home in New Jersey and you have any questions at all about your home's electrical systems, please feel free to give us a call. We'll gladly help you...

Read More
Top Electrical Tips to Keep You Safe This Winter

New Jersey winters can be brutal, but there are plenty of creature comforts that help make hiding inside more bearable, if not downright enjoyable. On the other hand, this is also a time of elevated instances of fires, injuries and other disasters, that could have been avoided. In fact, studies indicate that 43% of all...

Read More
If you are looking for a New Jersey ceiling fan repair specialist, then please call 973-906-8242 or complete our online request form.